March 13, 2023
Tips for Designing Your Flex Space
Ernest Homes knows how important it is for your home to have plenty of space. Our floor plans are built for comfort and flexibility, so you'll often find extra space that can be used for multiple purposes. For example, the Sherwood, Hatteras Signature, and Hilton plans provide ample room with a loft or flex space to use as you please. There are also available upgrades in many of our floor plans that make sure you have the room you need.
With all of the additional room, you may need a little help deciding how to design it or what to use it for. Ernest Homes is here to help! Check out a few tips and ideas to make your extra space everything you've dreamed of.
How To Design A Flex Space
Designing a comfortable and useful loft or flex space means keeping both form and function in mind. 
Choose furniture wisely. Think minimalism. It can be very easy to overwhelm a loft or flex space with large furniture, so consider scale. Choose smaller pieces that don't take up a lot of floor space, and only include essential pieces you know will get used.
Hide the bed. If you're using a loft or flex space as a small bedroom or guest room, hiding the bed will give you extra floor space during the day. Sofa beds, hideaway (platform) beds, or Murphy beds are practical, modern solutions. 
Don't forget the lights. Natural light from large windows or skylights is a must for daytime illumination. At night, wall-mounted light fixtures, such as sconces, are perfect for a loft or flex space since they don't take up space on tables or floors. 
Mirrors are always a good idea. Due to their size, loft or flex space may feel dark or confining. Adding a large mirror on one wall can make the space feel larger. Another option is to place smaller accent mirrors around the space.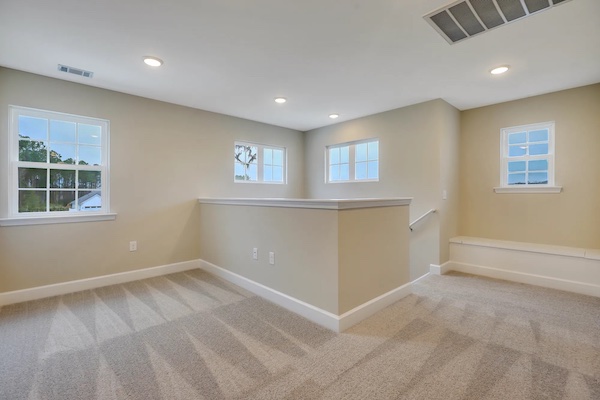 How To Use Your Loft Space
Not quite sure how to use your loft or flex space? Here are some ideas to consider:
Home Office/Library. If you work from home, your flex space is a great spot for an office. Imagine your desk, laptop, and maybe a few other pieces, such as a colorful area rug and maybe a plant or two. Add a comfy chair and some bookcases. Voila… you've also created a library! 
Lounge Space. Whether you're known for big-time parties or low-key weekend hangouts, entertaining is so much fun when you have your own "party" room. Picture a comfy couch and chairs, a high-top table - and your DJ set-up. Add a wet bar to your loft space and you have your very own lounge. 
Hobby/Craft Room. Do you love to draw and paint? How about playing music? If you've fallen out of touch with a hobby because of a lack of space, we have good news: you can pick it back up. With a spacious, open flex area, you can sit back, relax, and reconnect with the hobbies that make you feel your best. 
Playroom/Game Room. No doubt about it, a flex area is a fun space for the grandkids. Whether they're doing homework, playing video games, or having impromptu dance parties, the flex space can be their oasis. It's also a great place to stash their games and toys while keeping the mess out of your main living area.
With Ernest Homes, each of our new home floor plans provides options to personalize your home to fit your lifestyle. Whatever you choose, make the most of your new Ernest home and use your extra space however you like. You deserve it! For questions and more information about our homes and communities, please contact us.